I interviewed Phil Conners, the former Team Chef for the Cincinnati Bengals, to find out more.
Each day Breakfast begins at 5:30 am. The players have a hot buffet with all the breakfast staples: scrambled eggs, potatoes, sausage, the classics. There is a cold buffet with every smoothie ingredient imaginable. The team consumes hundreds of pounds of fruit and berries daily. The busiest area of all is the omelet station. For two to three hour straight, the cooks dish out omelet after omelet with a smile on their face.
It would be remiss not to mention the cereal station. The favorite choice of the Cincinnati Bengals was Cinnamon Toast Crunch. If the coaches and nutritionists weren't keeping a close eye on the players, some would eat up to ten bowls of cinnamon toast crunch. The station is refilled daily.
At lunch, one of the most typically consumed foods is the turkey burger on account of the lean protein content. The players might eat a total of 120 pounds of turkey burgers a day! It is not uncommon to see a player eat four turkey burgers in one sitting. The day is a schedule full of practice, drills, protein breaks, smoothie breaks, and meals. A small player might eat 5,000 calories a day. The larger players, like the lineman, are shooting for around 10,000 calories a day. The job of the team chef becomes a balance between keeping the menu interesting and putting out mass amounts of nutrient dense calories.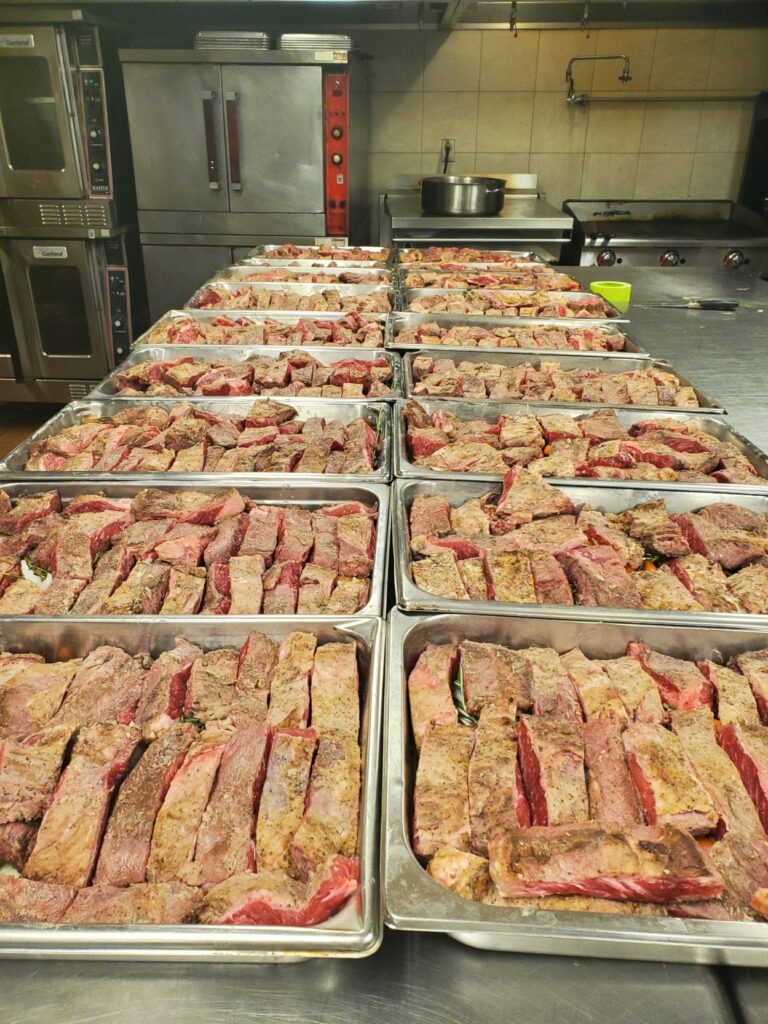 Providing menu variety is a challenge for all cooks, whether you are cooking for the NFL, a restaurant, or your children. An operation this size demands variety in the multiple food stations provided. There are usually 12 cooks working to fill that hot buffet with new items each day. The hot buffet is filled with main stream items like lasagna and meatloaf. Of course, in the sister city of Munich, Germany, Sauerbraten finds a place on the line, too. Additionally, another 6 cooks work the live action stations. These stations include a pasta station, grill, and brick pizza oven. Lunch provides another opportunity to get a few more bowls a cereal in and a visit to the smoothie station.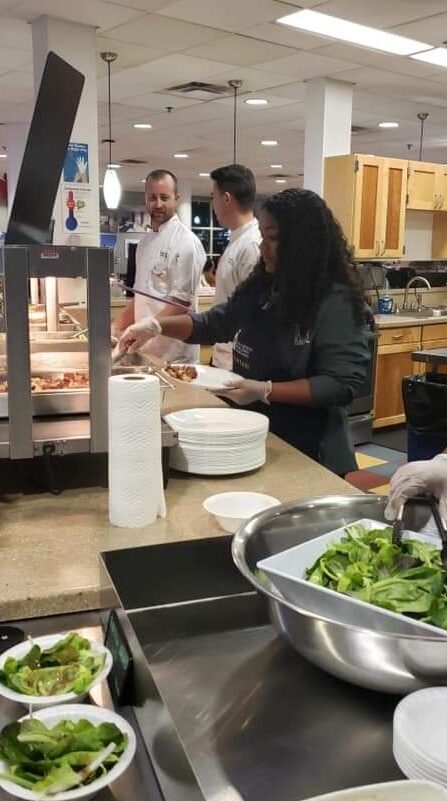 What was a favorite Bengals lunch entrée from Chef Conners' repertoire? Aside from the turkey burger, the players would frequently ask Conners for pasta primavera. Pasta primavera is a great option for football players. The dish is based around whole grain pasta and fresh vegetables. Dressed with pesto or an olive oil vinaigrette, and lending the option to add protein, the primavera is a nutrient rich choice with an array of ingredients.
Each week, the strength and conditioning coach and the nutritionist would meet with Chef Conners to discuss individual diet needs and foods to focus on. Anti-inflammatory foods are the major focus. Some examples of anti-inflammatory foods are olive oil, mushrooms, tomatoes, peppers, berries, avocados, broccoli, and fatty fish. The culinary team works to avoid things like trans fats and refined carbohydrates. A general rule for these athletes is carbohydrates are fuel and proteins are for recovery. Further, Chef Conners prioritized complex carbohydrates over simple carbohydrates when creating the menu.
That does not mean that there are not cheat days. Chef Conners said a common cheat meal was "The Holy Stromboli." Conners would put out cheese, pepperoni and meat lover strombolis. He went on to say "I don't care who it pisses off, I make Hawaiian Strombolis, too." Another cheat day favorite is the twice baked potato, which might as well be called a "chef's nightmare." Conners would gather 200 pounds of potatoes, bake them all, and remove the core contents. The part that is removed is used to make mashed potatoes and then put back into potato skins. Then, debauchery follows with cheese, sour cream, bacon and chives.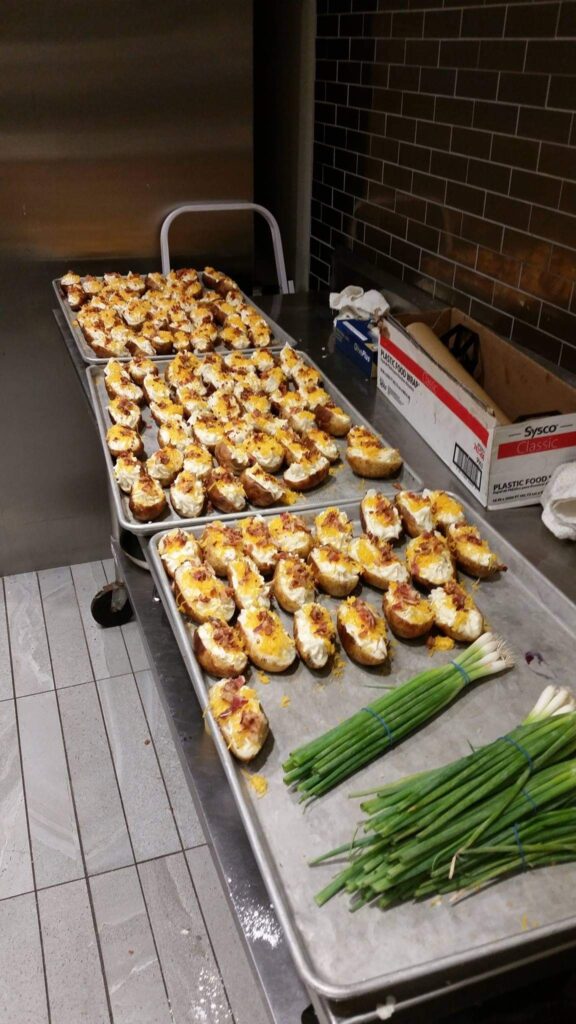 Being an NFL chef provides the opportunity to work closely with the athletes which might make some starstruck. Chef Connors spoke of how quickly the feeling faded. He said, "Domata Peko is the nicest human being I have ever met. He was a prominent figure when I was there. Totally down to earth. AJ green was one of the best receivers in the game at the time. You talk to him and it is like you're talking to your next-door neighbor. He is humble and not flashy or in your face."
The relationship with the players went beyond daily conversation. Conners would often run to the local Kroger Grocery to pick up Hidden Valley Ranch and Louisiana Hot Sauce for Dre Kirkpatrick (The ranch and hot sauce provided for the team was not to Kirkpatrick's liking).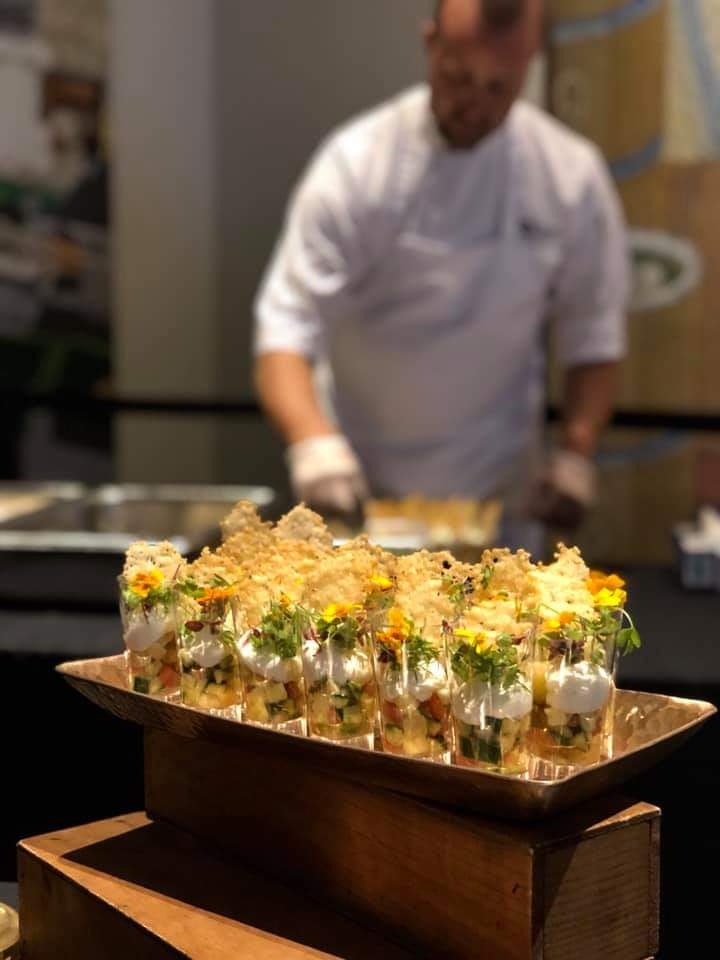 How do you get a job like that? The vetting process includes 2 to 3 phone interviews. The next round consists of 4 in person interviews. The final interview is a 6-hour session to cook 3 meals. Conners put together five courses. He was cooking in the kitchen while all around him business continued as usual.
He set out a pork tenderloin to thaw. Someone picked it up and put it in the freezer. It could have been an honest mistake. Upon discovery of the frozen loin, Conners quickly worked to force thaw the loin under running water. The water was mysteriously turned off halfway through the process. After he miraculously got the loin thawed and into the oven, someone turned off the oven midway through the cooking process. This could have been sabotage or it could have been a test of problem solving and action under pressure.
Chef conners recounted, "Fortunately, I got the pork out in time and it was delicious. There were 5 courses I put together for the Executive Chef, Executive Sous Chef, Strength and Conditioning Coach, Director of Premium Services, Concession Sous Chef, and the head coach, Marvin Lewis. I was doing all this in a million-dollar facility that would become my kitchen, cooking for these people that would be my bosses. It was a bizarre thing and it was strenuous."
A job like that attracts dozens of applicants. It is an extremely selective vetting process. Conners is a kitchen made chef. He did not go to culinary school. His determination and ability to keep a cool head are the assets that led to his success then and continue to do so today.